2019.08.27

News Release
Mitsui Plastics Invests in Minima Technology, a Taiwan Manufacturer of Biodegradable Plastic Compounds and Products
Mitsui & Co. Plastics Ltd. ("Mitsui Plastics", Head Office: Chiyoda-ku, Tokyo; Representative Director and President: Katsunori Mori) has invested in Minima Technology Co., Ltd. ("Minima"), a Taiwanese company that manufactures and sells biodegradable plastic compounds and products made of these compounds.
Minima is located in the city of Taichung, Taiwan. The company manufacturers biodegradable plastic compounds and products produced with these, such as straws, cutlery, shopping bags, and paper coating, and sells these products globally, mainly to Europe and the U.S. It has accumulated expertise and experience in the field of biodegradable plastics since its establishment in 2003. As consumers have become more environmentally conscious in recent years, Minima has expanded its business, mainly with major brand owners overseas. The company plans to build a new plant and significantly increase production capacity early next year.
As environmental consciousness is increasingly heightening due to the problem of plastic waste, various countries are now making rapid progress on initiatives toward realizing a circular economy. Biodegradable plastics, which are ultimately decomposed into water and carbon dioxide by microbes, are drawing interest as one way to solve the global plastic problem. Mitsui Plastics has made this equity participation in Minima to strengthen its initiatives aimed at solving environmental problems by providing a broad range of solutions to the market and customers, mainly to brand manufacturers who are expected to become increasingly aware of environmental problems.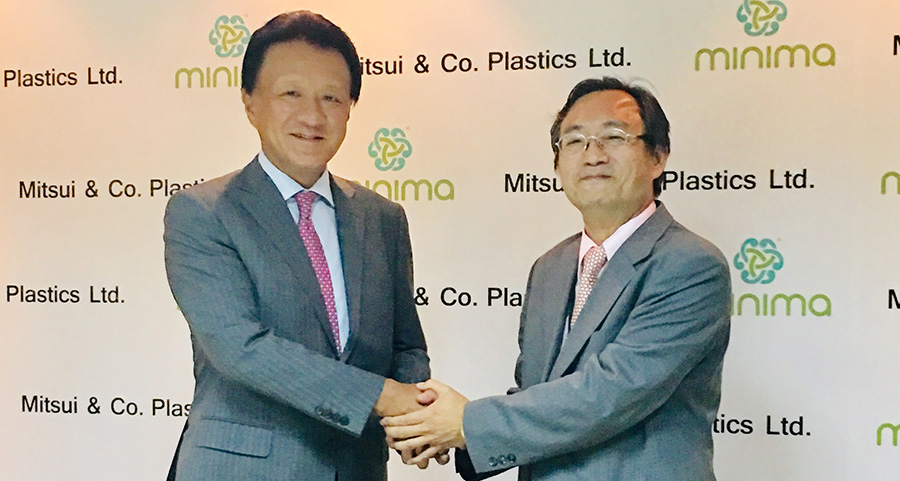 【Profile of Minima】
| | |
| --- | --- |
| Company Name | Minima Technology Co., Ltd. |
| Location (City & Country/Region) | Taichung, Taiwan |
| Establishment | 2003 |
| Representative | Dr. Chien-Ming Huang, CEO |
| No. of Employees | Approximately 100 |
| Business Activities | Manufactures and sells various products such as biodegradable plastic compounds, as well as products made of these, including straws, cutlery, shopping bags, and paper coating |
【For inquiries on this matter, please contact】
Industrial Materials Business Unit, Mitsui & Co. Plastics Ltd.
■Shinji Terakado
Tel. : +813-6328-5149
Email: S.Terakado@mitsui-plastics.com
■Hiroyuki Utsugi
Tel. :+813-6328-5201
Email: Hi.Utsugi@mitsui-plastics.com